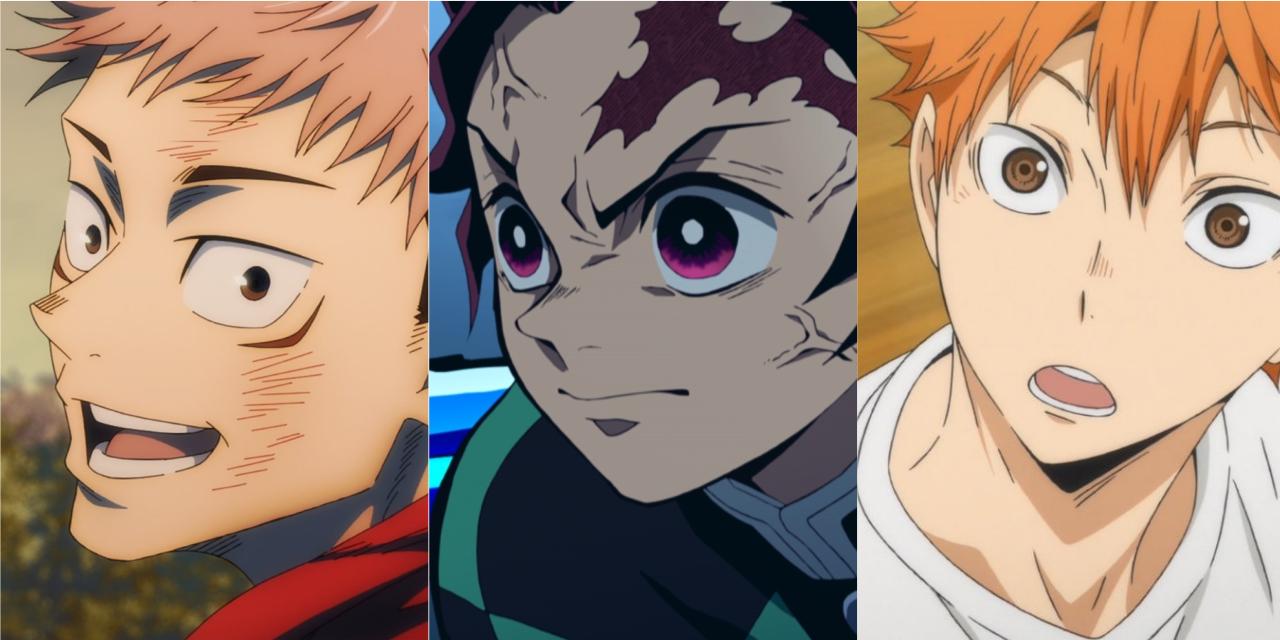 The best anime shows of the decade you should know
We all know the classics of the 90s such as "Ghost Fighters", "Inuyasha", "Slam Dunk" and "Sailor Moon", among others.
But while it's fun to go back to timeless favorites, there are a ton of anime shows released from 2010-2020 that are worth checking out.
Below are some of the shows that have captured the hearts of anime fans over the past decade:
1. Chihayafuru
Based on Yuki Suetsugu's manga series, the show follows Chihaya as she ventures into the world of karuta, a card game inspired by the classic Japanese anthology of the One Hundred Poets.
As she entered high school, she set herself the goal of starting a karuta club and qualifying for the national championship.
2. Hunter x Hunter
"Hunter x Hunter" has long been a classic, but the 2011 remake has once again won hearts.
He follows a boy named Gon who goes in search of his father and becomes a hunter like him. The remake features the Chimera Ant arc, which was never covered in the 1999 series.
The attack of the Titans. Photo courtesy of Netflix
3. Attack on Titan
You can't miss this mind-boggling and heartbreaking epic of Hajime Isayama. With the manga finished after 11 years and the anime soon ending with its final part, "Attack on Titan" is coming to an end.
Set in a world where humans live behind walls that protect them from giant monsters, the story follows Eren Yeager who makes it his lifelong mission to exterminate the deadly Titans.
4. JoJo's bizarre adventure
The series, based on the manga by Hirohiko Araki, revolves around the adventures of the Joestar family through the generations. The family members, who were gifted with power, are destined to defeat supernatural enemies.
Currently at four seasons, the anime covered the first five parts of the manga. A sixth season has been announced.
5. Psycho-Pass
A cyberpunk psychological thriller set in the near future of dystopia? Count us.
In this world, the Sybil system runs society, with criminal cases investigated by inspectors and law enforcement officers. Humans are constantly evaluated for their behavior, and those who are labeled as latent criminals are hired to protect inspectors while they perform their duties.
Haikyuu. Photo courtesy of Haikyuu's Twitter
6. Haikyuu !!
Like "Attack on Titan", the "Haikyuu !!" Haruichi Furudate's manga is over. But the anime has four seasons (and hopefully more) for you to enjoy.
"Haikyuu !!" follows Hinata Shouyou, a boy determined to become a great volleyball player despite his small size. By joining the Karasuno High School Volleyball Club, he and his rival-turned-teammate Kageyama Tobio attempt to climb to the top.
7. Noragami
"Noragami" follows a poor deity named Yato, who meets a human girl named Hiyori in a traffic accident. He also comes to adopt Yukine, a wandering spirit, as his weapon.
Together, they go on an adventure as Yato strives to become a famous god.
8. Your lie in April
Need a good cry? "Your Lie in April" tells the story of pianist prodigy Kousei Arima, whose will to play ceases after the death of his mother. He meets the free-spirited violinist Kaori Miyazono who changes his life.
The 2014 hit series is based on Naoshi Arakawa's manga, which ran from 2011 to 2015.
9. Food wars! Shokugeki no Soma
"Food Wars !: Shokugeki no Soma" is based on the manga of the same name written by Yuto Tsukuda and illustrated by Shun Saeki. He follows Soma Yukihira as he pursues his dream of becoming a chef, enrolling in an elite culinary school after his family's restaurant closes.
It was serialized in Japan's Weekly Shonen Jump in November 2012 and ended in June 2019.
10. A punch
It must be great being the strongest person in the world … but not for Saitama.
"One-Punch Man" follows the story of this superhero who can defeat any opponent with a single punch. However, his unmatched strength left him feeling bored.
My hero university. Photo courtesy of My Hero Academia Twitter
11. My university of heroes
Who doesn't like the story of an outsider turned hero? "My Hero Academia" follows the story of Midoriya Izuku, who was born "without quirk" (or lacking a superpower) into a world of overpowered beings.
After acquiring an oddity, he makes the difficult journey of becoming a hero.
12. Mob Psycho 100
Want offbeat humor? "Mob Psycho 100" is a fun series about schoolboy Shigeo.
He might look normal, but he's secretly a formidable medium whose powers threaten to unleash unless he suppresses his emotions.
13. Yuri on ice
It's impossible to miss "Yuri on Ice", which has racked up quite a bit since its release in 2016.
The animated series follows figure skater Yuuri Katsuki who returns home to defeated Japan. However, after a series of incredible events, he finds at home the five-time world champion Victor Nikiforov, offering him to become his trainer.
Devilman Crybaby. Photo courtesy of Netflix
14. Devilman Crybaby
Set in a world where demons are awakening and humanity is in turmoil, "Devilman Crybaby" tells the story of a boy who transforms into a being who holds the power of a demon, but with a human heart. .
The sentient demon boy is drawn into a brutal and escalating war against evil by his mysterious friend, Ryo.
15. deleted
If you are looking for a mix of crime, suspense and supernatural elements, "Erased" is for you.
He follows Satoru Fujinuma, who can time travel to save the lives of others. When he wakes up 18 years ago, he has a chance to save his murdered classmates.
16. Violet Evergarden
"Violet Evergarden" is without a doubt a work of art. He follows Violet, who takes a short break from her ghost writer job and gets a side job as a tutor for Isabella York, a wealthy girl with serious problems and a lonely past.
She has a few days to teach Isabella high society manners, while trying to figure out how to make her tutor truly happy.
Demon slayer. Photo courtesy of Demon Slayer's Twitter
17. Demon Slayer: Kimetsu no Yaiba
Of course, there's no way to miss the phenomenal "Demon Slayer: Kimetsu no Yaiba" whose sequel toppled "Spirited Away" to become the highest-grossing animated film of all time.
The story revolves around Tanjiro Kamado, a young boy who makes the journey to become a demon slayer after his family is slaughtered and his younger sister Nezuko becomes a demon.
18. Dr Pierre
"Dr. Stone" is based on the manga written by Riichiro Inagaki and illustrated by Boichi.
It follows high school student Taiju, who wakes up to a world full of statues, several millennia after all of humanity was petrified. His passionate science friend Senku, who had been awake for a few months, wants to revive civilization with the power of science.
19. fruit basket
A heartwarming and moving story of friendship and love, "Fruits Basket" follows a homeless orphan named Tohru Honda.
She finds herself embroiled in the affairs of the Soma clan, whose members have been cursed to turn into zodiac animals when hugged by the opposite sex.
Jujutsu Kaisen. Photo courtesy of Jujutsu Kaisen's Twitter
20. Jujutsu Kaisen
"Jujutsu Kaisen", the anime based on Gege Akutami's manga, is taking the world by storm.
The story follows Itadori Yuuji who was recruited to study to become a Jujutsu sorcerer after his exposure to curses.
He goes on a journey to hunt down the pieces of the curse he consumed so that she can die with him. —JCB, GMA News